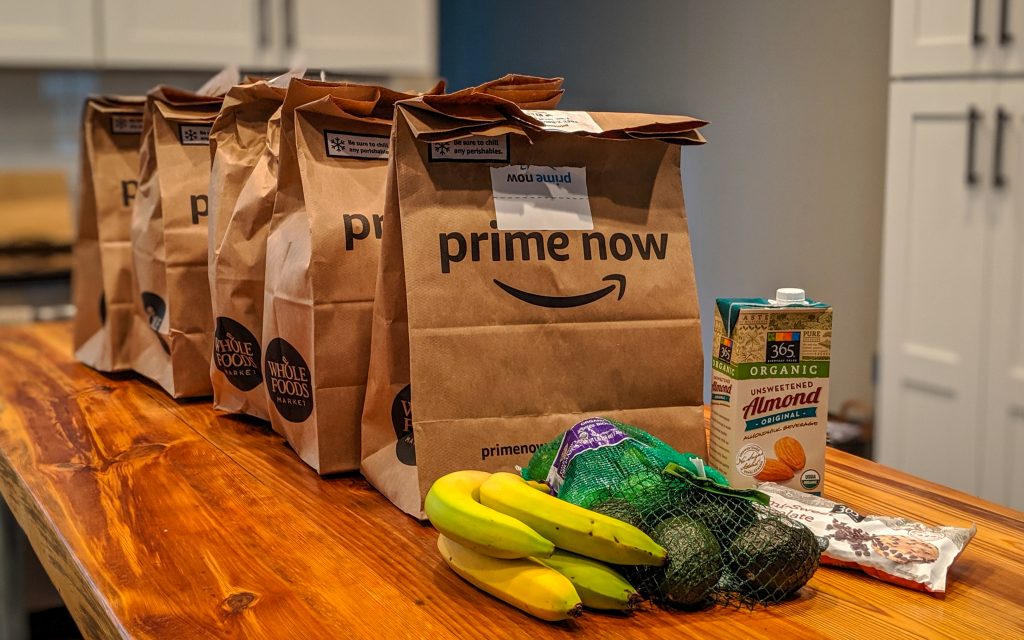 It's true – more and more people are buying groceries on Amazon. Partly because of Covid-related concerns about visiting big stores, or because of local lock downs, partly for convenience – particularly for people who are working at home, and partly for choice. A year ago, about a third of US customers had bought groceries on Amazon – now it's well over 40%.
Some specialty foods are particularly difficult to get if you don't have much choice where you shop – for instance for those living in small country towns. Gluten free, Kosher, and Vegan specialties aren't always available while many consumers want to know they're eating Fair Trade or Organic food. These could all be good niches.
But selling groceries on Amazon is a bit tougher than selling dog chews or pencil sharpeners. Amazon needs to know you're not going to poison anyone, and it also needs to know you're a reliable distributor. So first of all, check whether you're automatically approved (if you have a good track record, that could happen), or get approved by providing a purchase invoice from a manufacturer or wholesaler for at least ten units as well as live photos of the product and packaging.
It's easier to get started as a reseller/distributor, though you may want to move on to private label sales. First find a wholesaler, then find a listing on Amazon for a product you want to offer, such as Chai Masala Mix. Order the product, get it, take the photos and apply. (You can write the ASIN number on the receipt when you submit it to the Amazon team.)
Note that the requirements for sellers are quite strict; you must have less than 1% order defect rate, and less than 4% late shipment rate. If government approval is required for a particular product, you need to put it in place, you must have an expiration date marked on each unit, and the shelf life must be at a given minimum when your products hit the fulfillment center (eg 540 days for candy).
You may not sell items that require chilling, and you can only sell meltable products like chocolate during the winter.
Once you're approved, find a product. You can use retail arbitrage, just buying from Walmart – it works really well if there's a product in short demand and you manage to stock up. More sustainable business, though, comes from buying wholesale. If you see a listing with 4-5 sellers, they're likely to be resellers.
But eventually you may want to move on to private label manufacturing. That can work well if you can find a product specialty, such as ready-made spice mixes, or gourmet coffee gift packages, that's not well catered for elsewhere.
You may also find that selling groceries together with kitchen equipment can work; if you sell cafetieres, French presses, and espresso makers, selling coffee is a natural add-on, and can keep your customer longer. A cafetiere is a one-off purchase, but a customer who loves your Kenya Peaberry and Ethiopian Yirgacheffe is repeat business.
Having a supplier with 100% reliability is important, because of the requirements we described above. Your supplier also needs to have all the right credentials and regulation. And you need to think hard about packaging – your groceries have to arrive in perfect condition.
For those of you who love vintage, though, please note that Amazon isn't accepting applications to sell "Used, Refurbished, or Collectible" groceries. If you want a genuine 1940s tin of Spam, you'll have to look somewhere else!