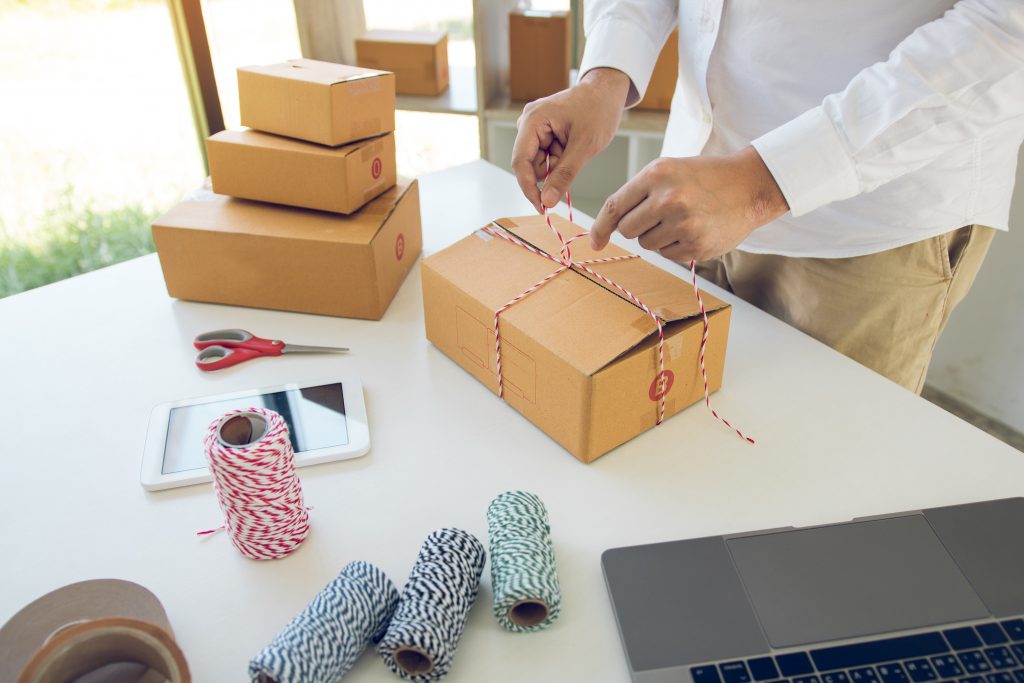 Packaging design is partly about branding – and we'll get on to that later. But there are also a few things that need to be on your packaging, and without which, you won't be able to sell – or worse, you'll be doing so illegally. Don't worry, it's not too difficult to comply with the regulations, as long as you carry out the following steps.
1. One of the most important things that needs to go on your packaging is your FNSKU – the stock number that Amazon issues you when you create your listing. You could ask your supplier to put it on with a sticker, or actually print it on the packaging (for instance if you're using a cardboard box).
You can also get Amazon to do it – but that costs money. It's much better to get it done by your supplier. (You'll need to generate a pdf file from Seller Central, where it says 'Print item labels'.)
2. You need to have a 'country of origin' declaration. That can be as simple as 'Country of Origin: China'. But one company spins it a little as "Designed in France – Made in China".
3. Depending on the nature of your product you may need other information of a regulatory nature. That's particularly the case if you're selling anything electrical but it might apply, for instance, to a set of acrylic paints if they contain certain chemicals or are designed for use by very young children.
It's not that easy to check this out and if you're selling to more than one market you'll need to check for both. (All EU nations share the same regulations.) One of the best ways to work out whether you're going to have issues is to find a leading brand in your market – for paints, Winsor & Newton or Liquitex, for instance – and see what they put on the label. Trade bodies and government organizations will also have information but it may be hard to find and not in the easiest form to read.
4. If you are packaging using a poly bag, you need to have a suffocation warning stickered or printed on it.
5. You need one color. Yes, that goes without saying. What we mean is that you don't necessarily need more than one color, because, guess what, you'll often get charged more for extra colors. If you have a strong color for your brand then just use that, though you'll have to check that it's easily readable against the background.
6. You aren't actually required to put your product name on your packaging, but it's a really good idea. It cuts down the chances of counterfeiting and it does give a nice professional feel to the package. As for your logo or other illustrations, prioritise simplicity. In fact, you can look at Amazon's Kindle logo – someone reading under a tree – as a great example. Yes, there's a bit of color shading, but basically there are just two colors and a silhouette, a really simple and recognizable brand.
Or remember Gateway Computers with their 'Holstein Cow' black patches on the box? (And that tied in nicely with the brand history – it was started not in a garage, but in a barn!)
You could also think about adding extra information on a sticker or printed on the box. For instance, if you're selling cocktail shakers, why not print cocktail recipes on the packaging? Not only can you make it look cute, for instance using a 'handwritten' font, but it's likely to get your customer actually using the shaker a whole lot quicker!